The Large Leather Carry-All Pouch in Turquoise
–photo via American Apparel
Every New York woman needs a great bag, one that is her catch-all accessory, classic and stylish, yet holds up well despite daily use and takes a city beating. We've put together a few of our must-have picks catering to different budgets and tastes. When you live in or visit the 'city that never sleeps,' a practical handbag in vogue will become your best friend — carry your umbrella, lip balm and maybe even an extra pair of shoes for the long trek home.
In New York City, a woman's bag can be irreplaceable –– it could be her favorite companion to wine in the East Village on a Tuesday, or brunch on a Sunday followed by a walk in the park, even with a handsome date on her other arm.



Banana Republic
As a fashionable yet functional accessory, the Joanna Tote in Cognac with gold hardware can't be beat. It's perfect for the office, a weekend trip, or just as an everyday bag for the urban lady with discriminating taste. Visit one of the BR stores scattered throughout New York City.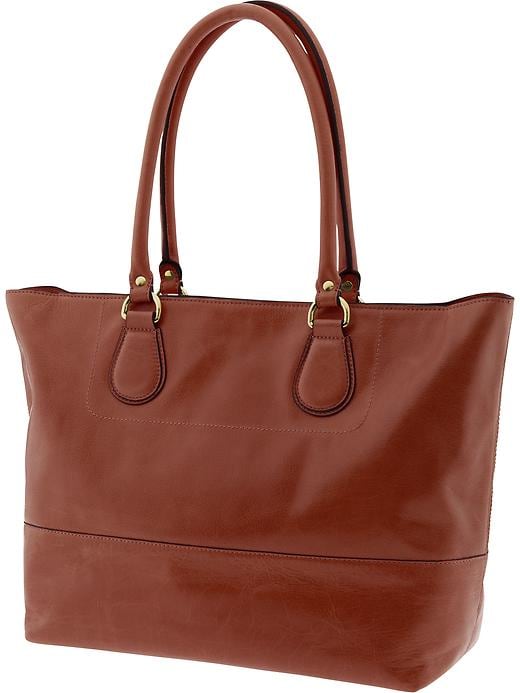 photo via Banana Republic
3.1 Phillip Lim

Brights are back, or maybe they never left? The Coral Pashli Satchel adds a splash of color to any ensemble. This classic embossed leather with double top handles is strong, sturdy, and will surely handle everyday wear while creating a fashion statement on any NYC street. The New York showroom is located at 115 Mercer Street in the heart of SoHo.
photo via Phillip Lim
Saddleback Leather
This substantial Gadget Bag is the ideal leather camera bag for photo-taking city slickers. Handmade and available in three sizes and four colors, it includes a removable pigskin liner, a 100-year warranty (yes that's right), and no doubt, the leather will become more supple and attractive with age.


Saddleback owner, Dave Munson, has an intriguing story, as well as a dedication to his former Labrador Retriever, Blue on his website.
photo via Saddleback Leather
Big city girls will love this Flicker Fabric Bon Shopper, available in lacquered natural canvas with patent trim and 14-karat light gold plated hardware. The Bon Shopper will be the perfect companion on any weekend buying spree, and the spacious interior will hold all the fabulous finds you collect on a day out in the Big Apple. Kate Spade has two locations in Manhattan, and one close by in New Jersey. Kate Spade bags are also sold at Lord & Taylor and Bloomingdale's.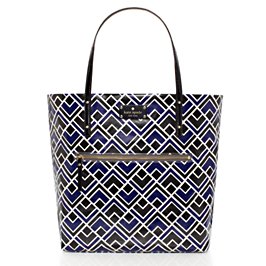 photo via Kate Spade
MARC by Marc Jacobs
This Globetrotter Calamity Bag in Black is classic with golden hardware and zipper. The double handles and removable shoulder strap enable versatility depending on the occasion. Dress it up or dress it down. Also available in "Rock Lobster ." MARC by Marc Jacobs has a location in the West Village and his bags and others are sold through Bergdorf Goodman at 754 Fifth Avenue in Manhattan.
photo via Bergdorf Goodman
If you're not a fan of straps or handles, this Large Leather Carry-All Pouch with a zipper closure is available in 59 colors. This basic clutch can be used as an oversized evening bag, a portfolio or a daytime accessory.
It's simple yet chic–you'll never look less than cosmopolitan with this one under your arm. Shown in Olive Wool. American Apparel has locations in and around NYC.
photo via American Apparel
Olivia Harris by Joy Gryson
The Iggy Metallic Satchel Bag in White/Spice will add style to the simplest outfit. With its
p
ebbled, metallic-detailed leather, contrast leather accents and golden hardware, you'll
surely stand out among even the most fashionable crowd, while easily fitting that extra
pair of comfy shoes and your favorite book for the train ride home. Available through
Bergdorf Goodman at 754 Fifth Avenue, and at the By Joy Gryson boutique at 106 Franklin
photo via Bergdorf Goodman
This post is sponsored by Saddleback Leather.
Posted on
LIKE THIS POST? SHARE IT.